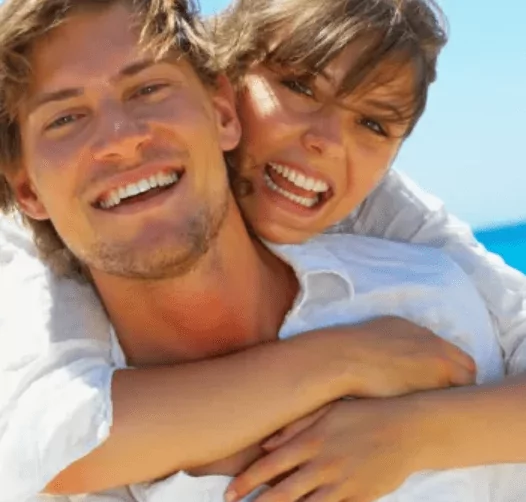 Having the beautiful smile you've always dreamed of is much more attainable than you might have first imagined. Dr. Christopher Drew, an experienced cosmetic dentist, offers a number of services that can enhance and improve your smile along with your overall confidence in as little as one visit. These procedures are effective and are able to give you excellent, quick, and lasting results.
Helping You Fulfill Your Smile Goals
We want to hear about your dream smile when you come in for a consultation. Tell us what you want to see from your smile, so we can recommend services that will help you get there!
Some of the cosmetic dentistry services and procedures we can offer you include:
Teeth Whitening
Make a better first impression with a glistening smile. This tooth whitening procedure is simple, effective, and can have amazing, dramatic results. We use the KöR Deep Bleaching system that even bleaches hard-to-whiten teeth, such as those stained by tetracycline. A whiter smile is possible for any patient, and our team is here to make it happen.
Dental Veneers
With dental veneers, a thin layer of material is placed over your natural tooth to create the optimal shape, color, and look of your teeth. This is a painless and quick procedure that gives immediate and gorgeous results. Your beautiful smile can last a lifetime, so ask Dr. Drew if dental veneers are right for your situation.
Dental Implants
A dental implant is a revolutionary way to replace missing teeth and restore your ability to chew. We'll carefully place an implant into the surrounding bone and create a secure anchor for a dental crown, restoring the feeling of having a real tooth.
Invisalign® Clear Braces
Invisalign® clear aligners are essentially a nearly invisible way to straighten your teeth. Unlike traditional braces that are more noticeable, Invisalign® braces are clear and removable aligners that are customized for your teeth. The clear aligners, which you'll wear for about 22 hours each day, will gently nudge your teeth into place, creating the ideal version of your smile. All the while, you can remove your trays at mealtime to eat and drink whatever you'd like.
Better Smiles Can Change Lives
The little things make all the difference in life, and for many members of our community, having a straight, sparkling smile can make every day better. As one of Tempe's leading sources for cosmetic dentistry, we've helped patients see improvements in numerous ways, including:
Oral health: Cosmetic dental treatment now can ensure your smile's health down the road.
Comfort: Proper treatment can alleviate discomfort in your teeth and jaw.
Self-confidence: A stronger smile is one you'll wear proudly every day.
Diet: Freedom from dental dilemmas lets you eat the foods you enjoy without restrictions.
Finances: We'll have you in and out of the office with a lasting solution that can prevent the need for deeper treatments.
Why Choose Drew Family Dentistry?
Visit the family cosmetic dentist Tempe, AZ, residents trust to improve their smiles. Helping you attain your perfect smile through one or more of these options is our goal at Dr. Christopher Drew's Office. We are excited to assist you in getting the smile you've always wanted.
The staff at Drew Family Dentistry will always treat you with kindness and compassion so you feel like family here. We take our time to go over all of the important information about these procedures and to answer all of your questions at your consultation. Count on us for a peaceful experience and a tailored solution that lasts.
Call for Your New Smile!
Let us help you get a dazzling smile right here in Tempe, AZ. Taking the first step toward your new, beautiful smile is as easy as calling our office at 480-839-0502 for an appointment today!