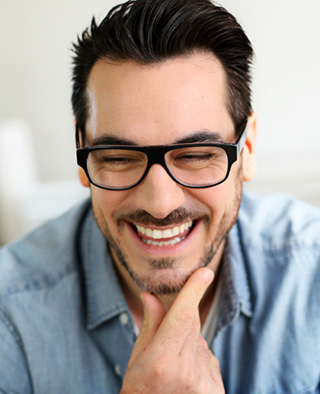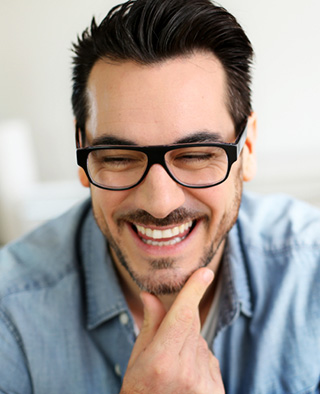 If you have lost teeth for any reason, a dental implant is a wonderful option. Implant dentistry allows us the freedom to insert a replacement tooth root into your mouth to support a porcelain crown, dental bridge, or dentures. This procedure offers a very effective way to completely replace missing teeth.
Dental Implant Components
Dental implants provide a permanent tooth root. Compared to other solutions such as crowns, bridges, and dentures, tooth implants have a longer-lasting result because the implant will actually fuse with your jawbone over time.
Implant dentistry is remarkable in that it provides an entirely new tooth— from root to crown. The following components make up your new tooth:
The titanium post: This is placed in the jawbone. It acts as the root of the new tooth, and a porcelain crown or other restoration will be placed over it.
The abutment: This connects the implant to the crown. It is permanent, but it also allows Dr. Drew to make adjustments as needed.
Your restoration. This is the part of your smile that will actually be seen by you and others.  Your restoration depends on your needs. We can provide a crown, bridge, or a set of dentures to finish restoring your smile.
Together, these implant components will restore your beautiful smile as well as the function of your mouth!
The Implant Dentistry Process
Our professionally-trained staff places implants and restores chewing surfaces at our office here in Tempe AZ.
Placement involves inserting the titanium post beneath the gum line. This post will support your new tooth or teeth.
Restoration involves setting your new teeth into your mouth. Your new teeth can be crowns, bridges, or dentures— depending on your needs.
The last part of the process is up to you. Once your teeth have been restored, you can enjoy your new, functional smile!
Advantages of Dental Implants
There are a number of reasons that you might want to consider dental implants. Replacing your teeth atop the secure dental implants comes with these benefits:
Permanence | Having a dental implant is the closest thing to restoring your natural teeth. It becomes part of your jawbone and feels like a real tooth!
Support | When you lose a tooth, you also lose the root within the jawbone. Replacing this root with a new root helps the jaw maintain its integrity and strength to support the teeth in your mouth.
Options | A dental implant gives you more options when making a decision about replacing missing teeth. You are able to replace one or several teeth with crowns, a bridge, or dentures.
We will talk to you about how implant dentistry can benefit your unique smile. We are happy to answer your questions and evaluate your health carefully to determine whether or not you are a candidate for this procedure.
Restore Your Smile in Tempe AZ!
The advancement of implant dentistry allows for flexibility when making decisions about your dental health. We will present your options to help you decide how best to replace your missing teeth. Dr. Drew would like to meet with you to discuss this option. Please call our office today!