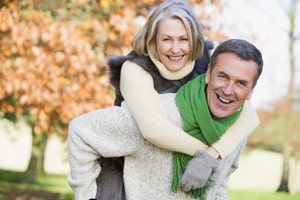 Your smile is one of the first things people notice about you. If you have cracked, chipped or missing teeth, you may hide your smile to avoid drawing attention. At Drew Family Dentistry, we can use dentures to help you show the world your smile again.
Why You Should Consider Dentures
While many patients believe that dentures are for seniors, patients of all ages can benefit from dentures. There are multiple reasons why people choose dentures to remedy their smiles.
Missing Teeth
Losing teeth as an adult can signify a serious issue. Gum disease, tooth decay, injury or facial trauma can cause damage your teeth and cause them to fall out. In addition to changing your appearance, a missing tooth can affect your speech and eating or cause stress on your jaw to create a bite misalignment. Dentures are a quick and easy way to restore your oral function and smile for years to come.
Gum Disease
Gum disease is one of the main reasons why many patients get dentures. If you do not practice good oral hygiene habits — brushing, flossing and seeing your dentists regularly — bacteria, plaque and tartar may build up on your teeth and gums and cause your teeth to become weak and fall out. Dentures are an ideal option for those who have lost teeth to gum disease because they rest on the patient's gums to restore the appearance and function of the missing teeth.
Tooth Decay
Cavities are a well-known type of tooth decay. In extreme cases, your cavity may grow too large for a filling or crown and spread to other teeth. Your dentist may have to remove the affected teeth and use a replacement option such as dentures.
The Denture Process
Receiving dentures from Drew Family Dentistry is a painless and easy process. First, Dr. Drew will take accurate molds and measurements of your teeth to create a personalized denture solution for you. You will then try on your dentures to ensure they are the proper shape, color and fit. At the final appointment, Dr. Drew will adjust and move your new set of dentures into place for a comfortable fit.
Dr. Drew is looking forward to helping you regain functions such as eating and speaking while enhancing your smile with dentures. Our entire team will go above and beyond to meet your dental needs and create a custom set of durable dentures that will last a lifetime.
Our Denture Treatment Options
At Drew Family Dentistry, our main priority is providing personalized dental services for all our patients. This mindset extends to our denture options for our patients in Tempe, Arizona. After discussing your dental needs, Dr. Drew can offer different denture treatments to best benefit your needs and lifestyle.
Our practice offers patients the option to choose from traditional or implant-supported dentures, depending on their needs.
Traditional Dentures
Traditional dentures are the removable replacement tooth option that may come to mind when you think about dentures. When your traditional dentures are in your mouth, they will sit over and above the gum tissue on the upper and lower jaw and use the pressure from your gums to create biting and chewing movements. Since the shape of your mouth may change over time, Dr. Drew will realign or replace your dentures every few years to ensure they fit correctly.
An ideal candidate for traditional dentures would be a patient missing many teeth but in good overall dental health. With a traditional denture, you can bite and chew as you normally would. Dentures will also give you the ability to show off your smile with confidence again.
Implant-Supported Dentures
Implant-supported dentures combine two modern dental prosthetics — dentures and dental implants — to replace the entire tooth from root to crown. During an implant-based denture procedure, Dr. Drew will place four to six implants in your mouth. After giving the implants time to create a strong bond, Dr. Drew will then attach a denture directly to the implant.
By installing your denture implants in this way, they will feel similar to your natural teeth. An implant-supported denture also uses pressure from your jaw to bite and chew to create less friction for a more comfortable feel.
If you are missing most of your teeth, you may be a candidate for denture implants at our Tempe, AZ office.
Restore Your Smile With Drew Family Dentistry Today!
Instead of hiding your teeth or avoiding certain foods, trust Dr. Drew at Drew Family Dentistry to help restore your smile. To learn more about our fantastic denture options in Tempe, Arizona, contact our office by calling 480-839-0502 today!